Dear Valued Business Partners,
We hope you doing well despite of COVID-19 pandemic.
We would like to keep you updated regarding the current infection reports in Thailand and the government's measures on travel restrictions during COVID-19 pandemic.
Updated numbers of Infection Status in Thailand (WED 05 AUG 2020) – Bangkok Local Time (GMT +7) 12:00 hrs.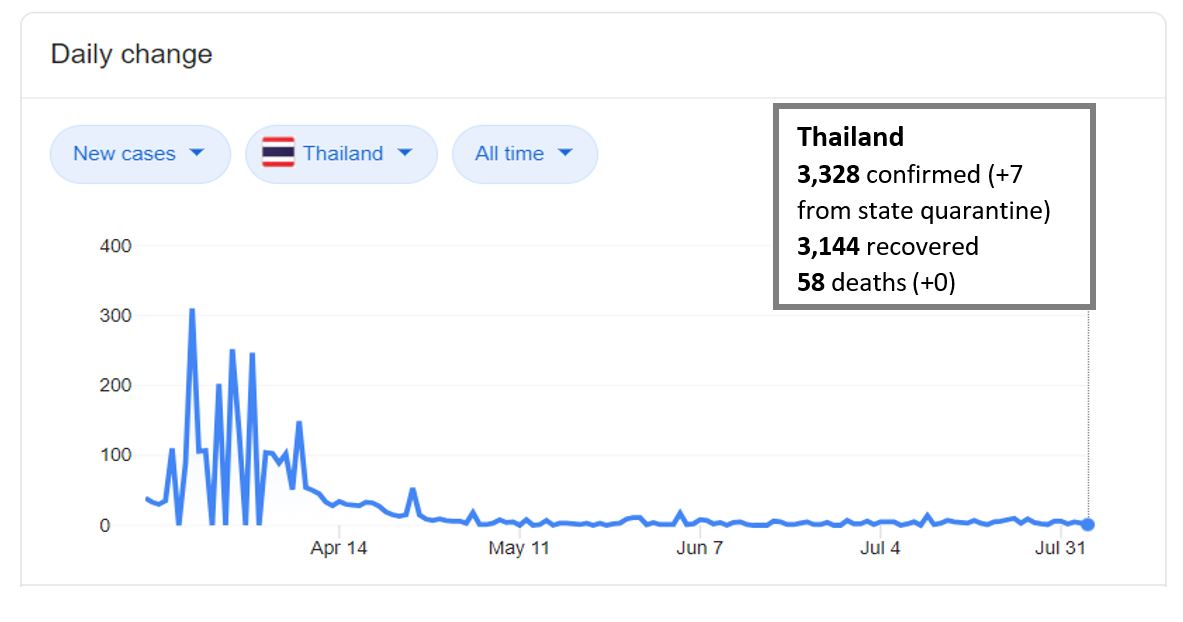 It has been 71 days that there is no report on domestic infections in Thailand, all new confirmed cases are the passengers returning from overseas and went through 14-day state quarantine in arranged places. Therefore, almost entire businesses have fully reopened while social distancing and mask-wearing public are encouraged by the Ministry of Public Health.
Nevertheless, the government still continues extension on Emergency Decree for one more month, ending on 31st August, as well as banning on international commercial flight entering Thailand unless it falls with any of previous mentioned categories, for more information please go to https://www.caat.or.th/en/archives/51895
All passengers whom are permitted as the indicated conditions need to follow below measures when travelling to Thailand.
Prepare for traveling to Thailand,
Obtain Visa and Certificate of Entry (COE) from Royal Thai Embassy in location. This stage might take up to 15-working days or more for queuing to get approval to travel to Thailand as the government has a daily limit of the number of passengers entering Thailand.
There are only special flights arranged by the government available to fly to Thailand. The passengers need to contact the embassy for required procedures as well as looking for special flights. The embassy shall advise the passenger if travel COE is granted, then the passengers can purchase the ticket on available flights arranged by the government.
For Thai citizens and Foreigners; Once the passengers have obtained approval to travel to Thailand, they need to visit the doctor to get a Fit to Fly certificate. They must have the Fit to Fly certificate and present to airline staff when checking in the flight.
Foreigners only; the passengers must have COVID-19 Lab test which is issued not more than 72 hours prior to the date of traveling, and present to airline staff when checking in the flight.
Foreigners only; must have medical insurance which the coverage is not less than 100,000 USD and covers the COVID-19 Disease.
Upon Arrival in Thailand,
All travelers must have a swab test for COVID-19 done again upon arrival in BKK airport.
All travelers must be in 14-day state quarantine in the places that are arranged by the government.
After 14 days of state quarantine, COVID-19 swab test will be done for two more times before leaving the quarantine place.
During this travel restriction period, our medical escorts are likely able to perform a mission with above conditions but apparently there will be 14-21 days waiting for return flight + 14 days for state quarantine upon arrival in Thailand.
Despite many conditions and restrictions, we are glad to assist as much as we can to transport the patients back home safely.
We are thankful for all medical service providers for their dedication during this challenging situation. We hope you all stay safe and this circumstance will be ending very soon.
Until next updates, we will keep you posted!