Dear Valued Business Partners,
We hope that you are doing well and safe despite the COVID-19 circumstances all over the world.
We would like to keep you updated about the current situation in regards to the Coronavirus Outbreak in Thailand.
Updated numbers of Infection Status in Thailand (TUE 07 APR 2020) – Bangkok Local Time (GMT +7) 12:00 hrs.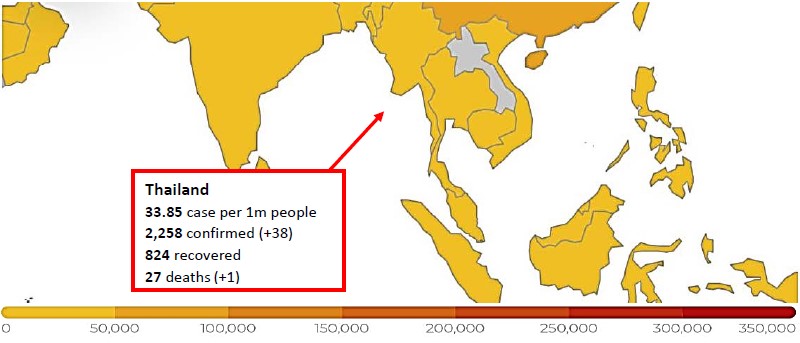 The Government has also announced Thailand to be under Emergency Decree since 02 APR 2020 which as described below,
The Six-hour Curfew team is announced for night time from 22:00 hrs to 04:00 hrs; people are not permitted to going out from their residences - excepting emergency and necessary business with approval letter from authority.
Public transport service in Bangkok area is closed from 21:30 hrs to 04:00 hrs, provinces-across public transports including buses and trains are temporarily suspended until further notice.
Hundreds of checkpoints across the country to enforce an indefinite nationwide curfew, banning most people from domestic travel - excepting emergency and necessary business.
Temporarily close places which have high risk of increasing transmission rates including shopping malls, entertainment business, sport centres, schools and public places to avoid public gathering – excepting fresh markets, convenience stories, pharmacies, hospitals, restaurants (take away & delivery only), banks, shipping services and gas supplies.
Foreigners are banned from entering Thailand at all entry points – the exceptions being diplomats and work permit-allowed workers – those who are qualified will need to present their fitness to fly certificates which is issued within 72 hours.
Thai citizens are allowed to travel back to Thailand by showing their fitness to fly certificate and Travel approval letters from local Thai Embassy. (Thai Embassies in all countries suspend Travel approval letter issuance until 15 APR 2020 or further notice).
All passengers travelling to Thailand will be secured for 14-day quarantine at places arranged by governments or if those passengers have body temperature above 37.3 ˚C will be transferred to assigned hospital in the area.
Commercial flights departing/arriving Thailand have been suspended until 18 APR 2020 at 23:59 hrs Bangkok local time; not complying Air-medivac, emergency landing, state or military aircraft, technical landing and Cargo aircraft.
Elderly above 70 years old, children, people with underlying diseases are encouraged to stay at home, as well as for all people to wear a mask in public, frequently wash hands and social distancing. A lot of business companies/ local governor also declared their measures for the Coronavirus pandemic period.
Most of the airlines in Thailand suspend both domestic and international flights in some routes to showdown the spread.
Hotels not to accept new bookings or a few-month closure are carried out.
Phuket has been shut down by order of the Phuket Governor, all non-essential vehicles being banned entry or exit the island.
To comply with Thailand's Emergency Decree and temporary close of the Airports of Thailand due to the pandemic, Asia Air Ambulance Co., Ltd is not eligible to dispatch our medical crew at this time until further notice.
We are thankful for all medical service providers for their dedication during this challenging situation. We hope you all staying safe and this circumstance will be ending very soon.
Until next updates, we will keep you posted!