Dear Valued Business Partners,
We hope that you are doing well and safe despite the COVID-19 circumstances all over the world.
We would like to keep you posted another short update about the current COVID-19 situation in Thailand.
Updated numbers of Infection Status in Thailand (THU 02 JUL 2020) – Bangkok Local Time (GMT +7) 12:00 hrs.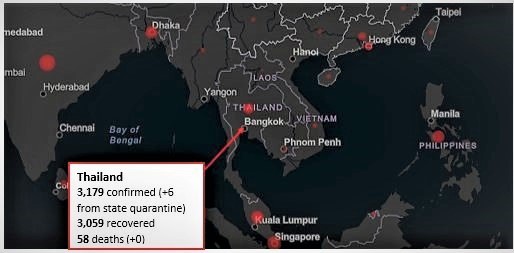 Since the beginning of June, the COVID-19 situation in Thailand has such majorly improved and shifted a bit up to normal circumstance. The Thai Government has lifted its measures on high-risk business and places re-opening allowance from July 1st 2020, domestic flights have fully re-operated since June.
However, The Government has announced extension on Emergency Decree for one more month ended 31st July, as well as the ban on international commercial flight entering Thailand unless it falls with any of the following categories:
1. State or military aircraft
2. Emergency landing flights
3. Technical landing flights without disembarkation
4. Humanitarian aid, medical and relief flights
5. Repatriation flights
6. Cargo flights
7. Passenger flights carrying the persons permitted to enter Thailand as prescribed in A).
A). The entry into Thailand of the persons of any of the following types, by aircraft, shall be permitted, provided that they comply with the conditions, time limits and rules of the authorized persons under the Thai immigration law, communicable diseases law, air navigation law, and the Emergency Decree on Public Administration in Emergency Situation, for the prevention of the spread of disease and the organization of the number of persons entering Thailand in accordance with the capability of the competent officers or the communicable disease control officers for the screening and arrangement of facilities for isolation, quarantine and control for observation:
Thai nationals
Persons with exemption or persons being considered, permitted or invited by the Prime Minister, or the head of responsible persons accountable for resolving state of emergency issues to enter the Kingdom, pertaining to necessity. Such consideration, permission or invitation may be subject to specified conditions and time limits.
Persons on diplomatic or consular missions or under International organizations, or representatives of foreign government performing their duties in the Kingdom, or persons of other international agencies as permitted by the Ministry of Foreign Affairs pertaining to necessity, including their spouse, parents, or children.
Carriers of necessary goods, subject to immediate return after completion.
Crew members who are required to travel into the Kingdom on a mission, and have a specified date and time for return.
Non-Thai nationals who are a spouse, parents, or children of a Thai national.
Non-Thai nationals who hold a valid certificate of permanent residency in the Kingdom, or permission to take up residence in the Kingdom
Non-Thai nationals who have work permit or have been granted permission from government agencies to work in the Kingdom, including their spouse or children.
Non-Thai nationals who are students of educational institutions approved by Thai authorities, including the parents or guardians of the students, except for students of non-formal educational institutions under the law on Private schools and of other similar private educational institutions.
Non-Thai nationals who are in need of medical treatment in Thailand, and their attendants. However, this shall not include medical treatment for COVID19.
Non-Thai nationals who are permitted to enter the Kingdom under a special arrangement with a foreign country
B). To enter the Kingdom, the persons under A). shall comply with Disease Prevention Measures for the Persons Entering the Kingdom to Prevent the Spread of the COVID-19 Disease Annexed to the Order of the Centre for the Administration of the Situation due to the Outbreak of the Communicable Disease Coronavirus 2019.
As of now Thai citizens are permitted to travel out of Thailand if there is the flight available, the patient and medical escort need to be done Covid-19 test prior to flight abided by the airlines' policy and disease control regulations.
Thai government has still limited number of passengers entering to The Kingdom of Thailand. Therefore, medical escort may be queued up to 2-3 weeks for available flight arranged by the government and to get travel permission from Royal Thai Embassy in departure country.
During this travel restriction period, our medical escorts are likely able to perform a mission with above conditions but apparently there will be 14-21 days waiting for return flight + 14 days for state quarantine upon arrival in Thailand. Lab Covid-19 needed to be done upon arrival in Thailand and to be worked up again after complete state quarantine.
Despite many conditions and restrictions, we are glad to assist as much possible as we can to transport the patients back home safely.
We are thankful for all medical service providers for their dedication during this challenging situation. We hope you all staying safe and this circumstance will be ending very soon.
Until next updates, we will keep you posted!